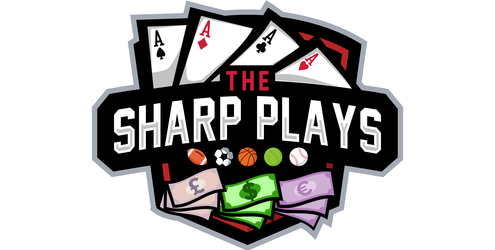 TSP LIVE SUBSCRIPTIONS AVAILABLE @ https://TSP.Live/tsp-live

The TSP Live subscriber tutorial is available at https://www.youtube.com/watch?v=uPvXLidUC9M
Recap & Week Ahead – The TSP Newsletter is now 11-4 the L5 weeks after another 2-1 winning record this past week! The best free sports betting content anywhere! With this being Week #7 of the TSP Newsletter, it means we are now over a third through the football season. Keep soaking it in because it'll be over before we know it!
Overall, the content did well last week, led mostly by NCAAF. I lost a rollover, but then got another one going. Highlight of the week was the KB Consensus moved to 9-2 for the season! Group Buys now 2-0 and also Book Positions are 2-0! Just waiting to finally dial in one of those parlays. Let's hope this is the week!
October TSP Live is open for signup and has come out of the gate strong in just the first few days of the month! If you are looking for expanded premium sports content, don't forget to check out TSP Live! Signup is at https://TSP.Live/tsp-live. Options ranging from 7 days, 1 month, 6 months, and up to 1 year are available. TSP Live Analytics members have access to analytics & content such as the TSP Live Radar, KB Consensus (32-13-3 last season), the daily Degenerate Club Report, the Oddsmaker's Report alerts and more (CLICK HERE FOR RECORDS)! It's the Sports Information Buffet…and you have a front row seat! For more details or to signup for TSP Live Analytics click here or visit TSP.Live/tsp-live.
The Financial Market Analytics (FMA) subscription is in its fourth year providing regular financial commentary, market analytics (including the new Path Predictor charts) and trade setups. FMA access is part of the All-Inclusive subscription, or can be purchased as a separate subscription each month. For more details, visit TSP.Live/fma.
As always thank you for your support through the premium sports and trading content! Your subscriptions support everything I do at The Sharp Plays (free & paid), expand the content and technology utilized, and support things important to TSP. I am continually grateful for your support! The Sharp Plays would not be here without you!
Lastly, don't forget about the TSP Telegram channels (Sports, Trading & Twitter)! For details on each channel and how to join them, visit https://thesharpplays.com/tsp-telegram-channel/.
Now let's get into this week's action…
---
Early Sharp Buy (3-3-0 for -0.4 units) – In this section of the newsletter I look for what wager is seeing the cleanest and largest sharp buy at this point in the week. The section is graded based on the result of the play here, however this play can be used for a few things. We have seen situations whereby the newsletter's early buy sees counter buying later in the week. These reverse buys have shown to be VERY STRONG and profitable to follow. So, keep the below game and wager in mind as the week goes along, even if you aren't interested in the action now.

The only loss last week was Texas A&M +3 over Alabama. Had a great shot for the cover if they could have just run the damn ball in from the 2. Let's hope for better luck this week. The Early Sharp Buy for the week ahead is Carolina +14 in the NFL. I know, they are pretty awful, but I cannot deny that it is the largest and cleanest buy this week. As soon as the market opened, Carolina got hit. It's ugly as sin, but maybe this is the Panther's week!
---
Early Algorithm Look (5-1-0 for +3.9 units) – The section here is quite simple. I run my favorite NFL & NCAAF side & totals algorithms each week. I then post the play below that shows the most value out of the four programs.
We got the USF/UAB OVER this past weekend to bring the record to 5-1. What does the algorithm see value in this week? It is Texas Tech -1.5 over Kansas St. The algorithm calculates that this line should be -4 and that gives us 2.5 points of value. Early Algorithm Look is Texas Tech -1.5!
---
My Handicapping (4-2-0 for +1.8 units) – I provide the same disclaimer every year…I SUCK at handicapping. If it weren't for the information, tools and analytics that I can access and utilize, I would be like any old Joe. Thankfully, I have all those tools and assets which allow me to be a sports betting genius (we can all pretend…LOL)! However, for this section each week, the selection is just based on my handicapping of a game or price. I take pride in this section and want to end the season a winner! At a minimum, hopefully we have a few laughs.
For the week ahead I am going with Houston +2.5 over New Orleans. I have this game at a PK, but I am getting 2.5, so that's a value right there. I still don't think the betting markets are giving enough credit to the Houston resurgence. Sure, they are not a Super Bowl contender, but the losers that they were in recent seasons seems to have given way to a new swagger and I really like CJ Stroud! I have been very impressed with his performance and I think Houston matches up well with the Saints. I also think the total domination of an overrated Patriots team by New Orleans is inflating this line way too much…in combination with Houston falling short against Atlanta. However, I will let the loss slide a little because it was a bad spot for Houston. Now they get to go home and I think they show up big! I am going with the Texans +2.5!
---
The Sharp Plays Review – I had a very fun experience this past weekend and figured it would make for a good review. I mean who doesn't love a good tailgate and then a fun stadium atmosphere to follow? I am addicted to sports event energy. Boxing in recent years has lost A LOT of the energy it used to have. However, back in the early 2000's, when you had Shane Mosley, Floyd Mayweather, Bernard Hopkins, Oscar De La Hoya, Miguel Cotto, Manny Pacquiao…just to name a few…being at the MGM Grand on the night of a fight in the Grand Garden Arena was something to behold. The energy was just awesome and that almost euphoric energy would then carry on to the tables after the fight. I love craps and there is nothing like a high energy table after the fights. I honestly do not have words to convey the energy and excitement you felt…and I am not one to get easily excited. LOL! It was just something you had to experience…and one of my most fondest memories. When I am on my death bed and waiting for the Lord to take me, I hope he won't mind that one of the memories to keep me at peace, and not sad by thinking of family, will be remembering those nights at the craps tables at MGM! Better than any drug! Back to the topic of this week's review…
After Ole Miss grabbed a nice comeback win against LSU, I decided to take a little adventure to Oxford, Mississippi and thank the Rebels for their win by supporting in person. The Grove at Ole Miss is known as "The World's Largest Tailgating Party". Every home game the Rebel faithful set up their tents and a hell of a party ensues!
The Grove provided a fun and relaxed energy, which began to grow into high energy as kickoff approached. It did help that this past Saturday was a beautiful fall day in Mississippi…sunny with a high around 68. The energy began to really amp up as you were walking to the stadium for the game. However, I will start my review with arriving on Saturday morning. From past experience, it was decided we would arrive to The Grove around 11:15am to get setup in the tent. There are two ways you can get a tent in The Grove. The night before you can run like a maniac with a tent onto The Grove to stake your claim to some grass. On Friday, at 7pm, they blow a whistle and dozens of people rush into The Grove to get all setup. The other option, which is what our crew went with, is you can use one of several tent services. There are university approved vendors and those are the companies I would look to use. Most tent services provide the same basic service (tent, table, chairs, cooler), however rates for these tent setup packages can run from $500 to $1500 or more depending on what you want (multiple tents, tables, chairs) and any additional services (like TV's). There is further differentiation between the tent companies as each have their own little territory where they setup in The Grove. So, depending on where you want to be might dictate which company you choose. Always good to ask the company to send you a picture of their territory in The Grove. Lastly, you will find different tent companies have different add-on options like flower arrangements, upgraded chairs, special table covers, chandeliers, etc. that they provide for an added fee. These are not just your standard pop up tents where people sit and drink beer to tailgate. Sure, there is plenty of that…but this is what I would call "Southern Style" advanced tailgating. It's really next level! You have tents which are decorated with streamers, banners, and flags. Tables which include lighted candles, table cloths, and decorations similar to what you would find at a birthday party. You have tents with high top tables, flower arrangements on every table, the trademark chandelier, Adirondack chairs, directors chairs, various sized TV's (50 inch seemed standard) with satellite service and catered food. Oh yeah, The Grove method is the way to tailgate!
The other thing you will notice in The Grove is how people dress to tailgate. Women are all made up and wearing sun dresses or skirts, cowboy boots and full accessories to match. Most guys are not quite as done up, but you will find a few who enjoy the moment to dress in their best all red outfits. For most men, the Ole Miss polo shirt or other Ole Miss apparel seemed to be the standard uniform. You will see a lot of the guys from the various frats all dressed up in their sport coats and khakis milling about which is fun to see.
We had arranged parking in advance of arrival, but you should investigate parking prior to your visit as it is at a premium in the area around the campus. It's not like an NFL venue where there is plenty of parking. Depending on where your hotel is, your means of transportation, etc., there are different options which might work. Don't arrive on Saturday and hope to just pull into a lot, most are sold out in advance. If you like Uber, there are plenty of those running around.
So, we arrived at The Grove and met the staff who handled our tent setup. They directed us to our tent which was already setup with tables, chairs and TVs (two). Upon arrival at the tent we found our cooler (which included plenty of ice). At this point our tent concierge let us know our food would be ready in about an hour. Perfect! We sat down to watch some football on ESPN and local channels thanks to two 50 inch TVs added to our setup. What more could you ask for?!? Sitting in a tent that we did not have to setup, on a beautiful fall day, people all dressed up milling about, on a beautiful campus (Ole Miss has old colonial style buildings which are very pretty), watching college football on multiple TVs in the cool fall breeze…and as we wait for delicious southern cuisine to be delivered…all the while waiting to then go into a live SEC game with Ole Miss against Arkansas. What a nice day!
Now that we were setup and enjoying our little enclave in The Grove, the food was set to arrive. I wasn't sure what to expect, but our host did a phenomenal job on the menu. The food was excellent! Catfish, chicken tenders, beans, mac and cheese, sliders, pulled pork, chicken salad, Ole Miss frosted cookies, various dips, Dots Pretzels (always AWESOME!), and more. Every bit of it was delicious! I have yet to eat since Saturday by the way! LOL! One tip I would give is our host arranged disposable chafing dishes. Given the temperatures or just the desire to keep the food warm, it would be good to have chafing dishes. Most of the catering companies will provide them for a fee. We got our food very hot at 12:30pm CST, but the game wasn't until 6:30pm CST and we had enough food for an army. So, the ability to keep the food warm all day was great.
As the day moved along, and we continued eating, watching football, and doing a ton of people watching as we sat and bullshit amongst ourselves, it was fun to watch how much The Grove filled up with people. I would compare The Grove to the last day of a State Fair…you know…when everyone comes out for it. About two hours before kickoff the place is just PACKED. However, it is very comfortable to be situated in your tent despite all the people in and around The Grove. You do have to be OK with people politely walking through parts of your tent from time to time. The tents in The Grove are right on top of one another and there are no real walkways between them. So, at some points the only way to get around is to cut the corners on tents. It's not a big deal and hardly some caravan coming through at all times. I would say every 10-15 minutes someone or a couple people would ask to cut through our tent to get to a nearby tent. There are plenty of actual sidewalks throughout The Grove, and you can get around The Grove easily using the sidewalks…or the Grove Loop Rd. However, most tents are not right up against one of the sidewalks. So, to maneuver in these areas requires you to slide on the edges of tents which are not yours. Again, it's really no big deal. However if you are the type who yells at kids to get out of your yard, it might annoy you a bit when some kids cut through quickly to go from one tent to the other or to get to the sidewalk or road…just FYI.
When it was time to go to the game, we just cleaned up our food and tossed it into one of the many red or blue garbage cans that are all over The Grove…usually there are one or two right up against every tent. We then left the TVs, chairs, cooler etc. right there and the tent service handles all the cleanup! We then walked on the side of one tent next to us to get to the main Grove Loop Rd and head to the stadium. It was a simple 5 minute walk and easy to enter the stadium and head to our seats. A fun venue with plenty of concessions and prices were good for a sporting event. Ticket prices range from $80 to $350 depending on where you want to sit. I would say the vast majority are in the $130-$160 per ticket range. Not bad when you compare to an NFL game.
All in all, it was an awesome experience! There is nothing like SEC football and The Grove in Oxford, Mississippi is a great place to experience it all! The review is pretty long but I also have to add that the restaurants in Oxford are excellent…and the whole area provides a truly enjoyable and relaxed small town experience. It's definitely gotta be on a football enthusiast's bucket list of places to check out…and I will definitely be back next season!
Below are some Grove tailgating pictures from my adventure. These may not show up on the email version, so you can view by visiting the website version of this message at https://TheSharpPlays.com/the-sharp-plays-newsletter-2023-week-7/…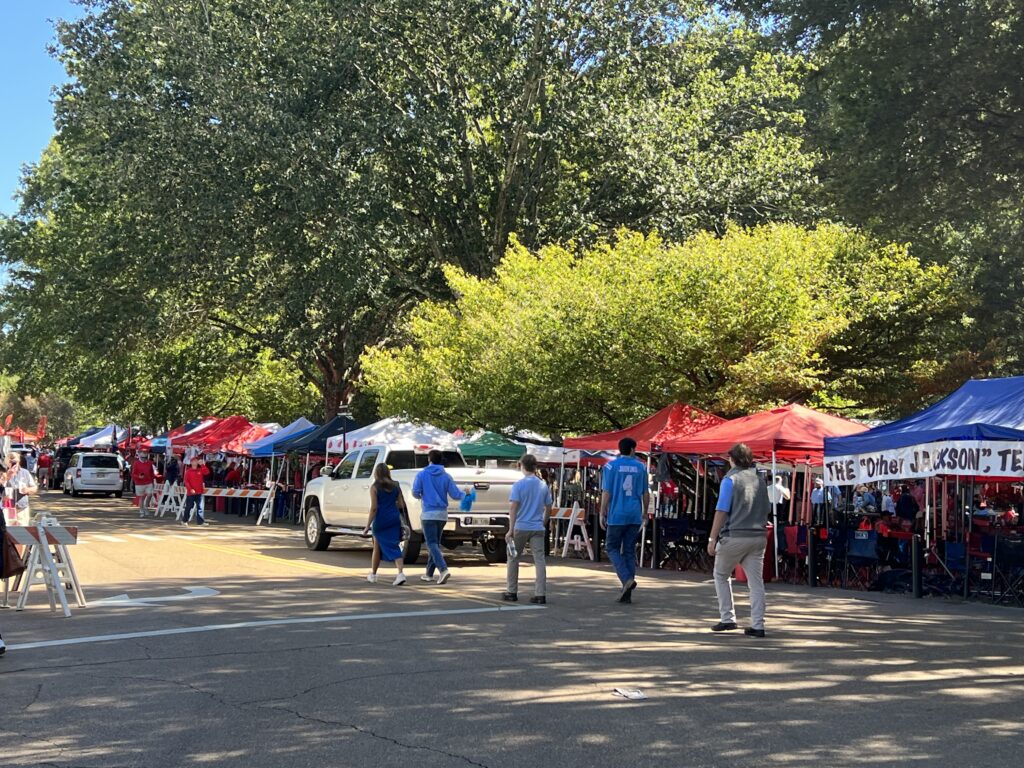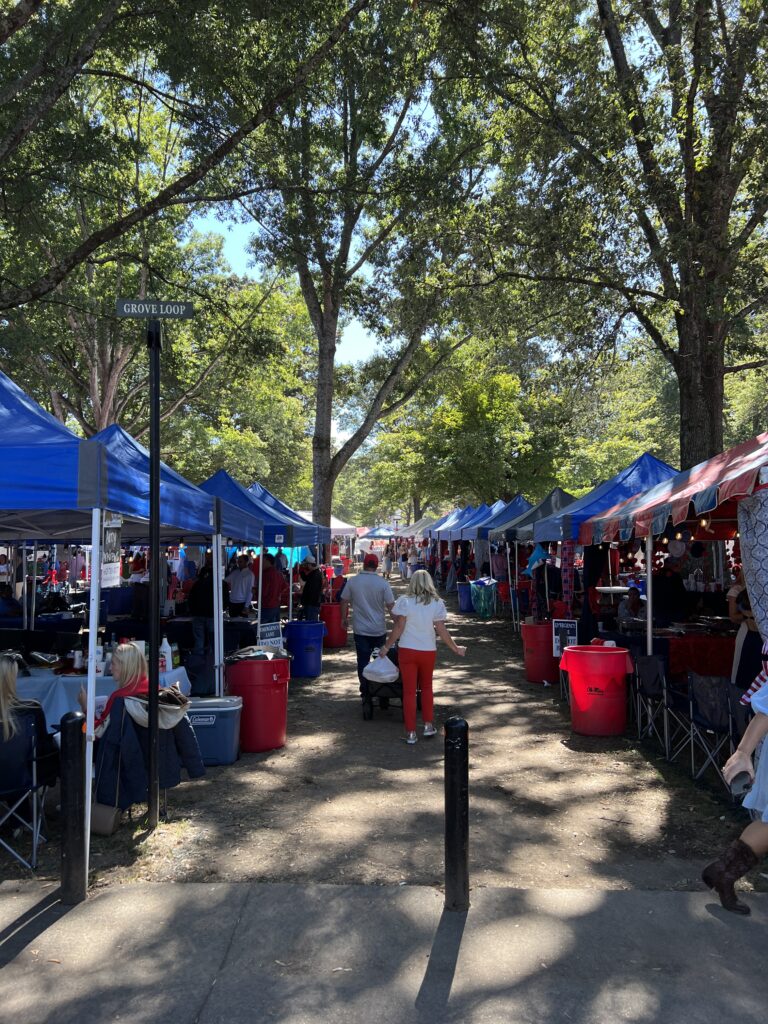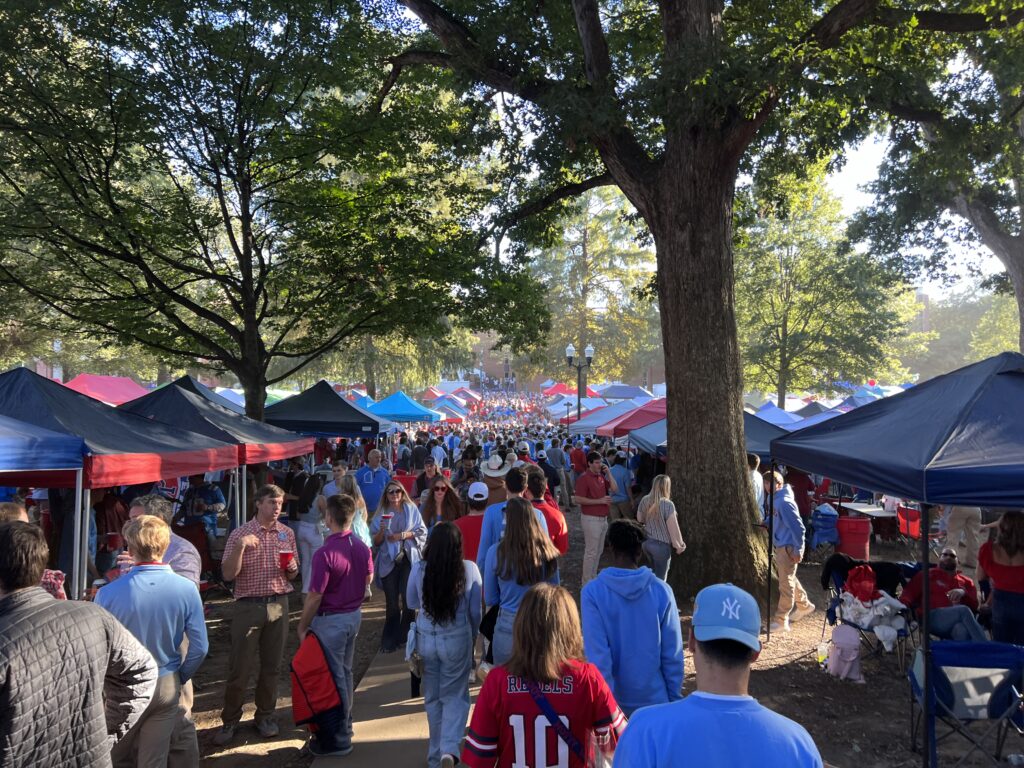 ---
My Two Cents – I just have a quick My Two Cents this week due to the length of The Grove review. What I wanted to bring up is that I am looking at moving more of the lower tier paid content to Twitter and Telegram. Things like the heavy public action wagers and the public dogs…among a couple other ideas.
It would allow me to have TSP Live provide only the highest level content on a daily basis, things like the Legal Pad, Degenerate Club Tables (those which contain graded content), TSP Live Analytics tables and then of course all the normal TSP Live alerts which contain high level or graded content (Oddsmaker's Report, Analytics Alerts, etc.). ANYTHING else would then fall over to Telegram and Twitter. In making this change the TSP Live content would be less cluttered with lower level content, while at the same time the content would still be provided through other means. So, stay tuned for an update tomorrow…might be time to bring Fake Morgan Freeman back! I know the video and audio content has been quiet the past two weeks as I have worked on upgrades to TSP Live, but time to bring him back!
I'll post to Twitter and Telegram when the overview is set!
That'll close out this week's newsletter for me! Thanks for giving the newsletter here a read today! Stay safe out there! I am always open to any feedback you may have. I might not listen to it, LOL, but I am open to it! 😉🤙🍀
Good luck in your action!
~ The Sharp Plays