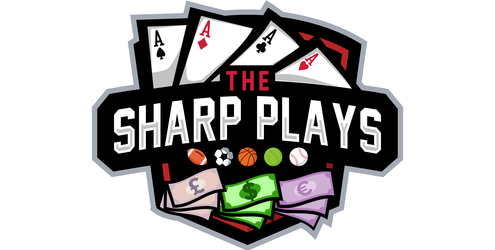 TSP LIVE SUBSCRIPTIONS AVAILABLE @ https://TSP.Live/tsp-live

The TSP Live subscriber tutorial is available at https://www.youtube.com/watch?v=uPvXLidUC9M
Recap & Week Ahead – The weekend was right on the edge of epic! We have had some solid weekends in The Sharp Plays content all football season, and have been right on the cusp of having an epic weekend a few times. In past weeks we missed the epic outcome because we would just miss one play in our parlay. Thankfully, that was not the issue this past weekend as the parlay cashed for +6 units and the teaser got there too for +1 unit! Nice weekend on exotics as the DCR rollover even got above 5 units of bankroll. Really if the second KB Consensus play (Rams OVER…KBC went 1-1 on Sunday) and finished with the Public Prop Fade on Sunday night…it would have been an epic one! Almost!! Let's keep the train rolling and get that epic winning weekend this weekend.
I cannot believe next week is November! We are already rolling through the football season, but the good news is as football winds down, my next favorite season will start to amp up…NCAA basketball! Not to mention, November, December, and January are some of the best months for sports betting. EVERY sport is active in November…then December brings us the bowls and January brings us playoff NFL. It's a great three month run! First things first, let's finish October with a bang here in the newsletter!
If you are looking for expanded premium sports content, don't forget to check out TSP Live! Signup is at https://TSP.Live/tsp-live. Options ranging from 7 days, 1 month, 6 months, and up to 1 year are available. TSP Live Analytics members have access to analytics & content such as the TSP Live Radar, KB Consensus (32-13-3 last season…now 11-3 this season), Degenerate Club tables, the Oddsmaker's Report alerts (Book Positions 3-0 this year) and more (CLICK HERE FOR RECORDS)! It's the Sports Information Buffet…and you have a front row seat! For more details or to signup for TSP Live Analytics click here or visit TSP.Live/tsp-live.
The Financial Market Analytics (FMA) subscription is in its fourth year providing regular financial commentary, market analytics (including the new Path Predictor charts) and trade setups. FMA access is part of the All-Inclusive subscription, or can be purchased as a separate subscription each month. For more details, visit TSP.Live/fma.
As always thank you for your support through the premium sports and trading content! Your subscriptions support everything I do at The Sharp Plays (free & paid), expand the content and technology utilized, and support things important to TSP. I am continually grateful for your support! The Sharp Plays would not be here without you!
Lastly, don't forget about the TSP Telegram channels (Sports, Trading & Twitter)! For details on each channel and how to join them, visit https://thesharpplays.com/tsp-telegram-channel/.
Now let's get into this week's action…
---
Early Sharp Buy (3-4-1 for -1.4 units) – In this section of the newsletter I look for what wager is seeing the cleanest and largest sharp buy at this point in the week. The section is graded based on the result of the play here, however this play can be used for a few things. We have seen situations whereby the newsletter's early buy sees counter buying later in the week. These reverse buys have shown to be VERY STRONG and profitable to follow. So, keep the below game and wager in mind as the week goes along, even if you aren't interested in the action now.

There was a reverse buy that hit on South Florida and went again the early buy from the newsletter last week of UConn. However, thanks to buying up to +3 we got the push here…and if you bet the reverse buy with USF -1…you cashed that bet too! For the week ahead, the cleanest sharp buy at this point in the week is Georgia Tech +11.5 over North Carolina.
---
Early Algorithm Look (5-3-0 for +1.7 units) – The section here is quite simple. I run my favorite NFL & NCAAF side & totals algorithms each week. I then post the play below that shows the most value out of the four programs.
No luck from Texas Tech in back to back weeks for the algorithm. Thankfully the algorithm is moving on to a different team this week. For the week ahead the algorithm shows the largest value as Michigan St +7 over Minnesota. The algorithm calculates Minnesota should be -5 and they are -7 which provides Michigan St two points of value. Let's go Michigan St +7!
---
Don't forget to visit TheSharpPlays.shop for the latest in TSP couture! Profits will be donated to charity as follows…
100% of all profits from any Robin Hood Club related purchases (two t-shirts with "RHC4LIFE" on them) will be donated to St. Jude Children's Hospital on a monthly basis.
50% of all profits from all other merchandise (non-RHC t-shirt, both hats, both the TSP Pint Glass and TSP coffee mug) will be donated to a different charity each month.
I hope you enjoy the items and they add a little something fun to your wardrobe or home decor…while at the same time benefitting some great charities along the way! Who doesn't want to drink from their TSP Pint glass when they are celebrating the next big win…or wear that TSP Essential T-shirt on a big NFL Sunday?!?!
Enjoy and thanks for the support! – TheSharpPlays.shop
---
My Handicapping (5-3-0 for +1.7 units) – I provide the same disclaimer every year…I SUCK at handicapping. If it weren't for the information, tools and analytics that I can access and utilize, I would be like any old Joe. Thankfully, I have all those tools and assets which allow me to be a sports betting genius (we can all pretend…LOL)! However, for this section each week, the selection is just based on my handicapping of a game or price. I take pride in this section and want to end the season a winner! At a minimum, hopefully we have a few laughs.
Damn Saints…they finally came to play in the 4th quarter on Thursday, but by then it was too late. Hopefully for this week I can find a winner…and I am going back to the well with a fade of the Jags. I think my Jags fade was well placed on New Orleans, but a couple bits of stupidity and the Saints cost themselves the game…especially that Moreau drop in the end zone in the final seconds. However, what I noticed in that game, and likely why the Saints looked so good late, was that Jacksonville was finally showing some serious signs of fatigue. It's the same fatigue I expected they would have the whole game. So, this week I will ride the Jags fade train again and I am going with Pittsburgh +2.5. I was pleased to see the Steelers put together some offense this past week. The defense has been there…although does have a few issues coming into this week. The issues are a concern, but not enough to get me off this bet. The Jags do get some extra time this week but I have to believe the fatigue from the run the Jags are on is going to play a part as they travel up to Pittsburgh. I think the Jags have been getting VERY LUCKY in recent weeks too and that luck is being perceived in the Jags numbers as skill. I do think the Jags are talented, but the market and public bettors are getting a little ahead of Jacksonville and that is providing value to Pittsburgh. So, I will ride with the Steelers +2.5! I felt this should be around Jags -1 at best.
---
The Sharp Plays News & Reviews – No review this week, but back next week!
---
My Two Cents – I said I would discuss some of the messages I get in this week's newsletter. Since I have been doing this for approaching 13 years, it is tough to cover all the hysterical messages I have received through the years. So, I will just grab three of the more frequent types of messages I get on a regular basis. Don't worry, one day, perhaps in the off-season, I will put together a much more comprehensive breakdown. It will be a hysterical journey into lunacy…but it would require a lot more time to dig up and cover them all than I really have in just one TSP Newsletter with a week of prep. So, here's the three most frequent message themes I get.
What never ceases to amaze me about people is the value they put into their opinions on social media. People will send these elaborate replies or DMs and think that their opinion matters…or somehow they can ruin my day or mood with their words/messages…or they think by posting messages of what a douche I am or how I lost a bet (or multiple bets) that all of a sudden everyone is going to stop following or subscribing to The Sharp Plays and TSP Live. Maybe I will just curl up in a corner and cry because of their messages?? The level of delusion is shocking! I have had haters since the second I got on Twitter/X back in 2011 and yet each year The Sharp Plays just keeps getting bigger in subscribers and followers…but you keep trolling my friend! Anyway, for some fun, let's look at some of the lunatics out there. I'll give you an example of one using our first message. I call the following the "TSP is a scam/tout" hater…
The rollover got lucky once and [he] has been using it as a marketing tools [sic] ever since. I documented it a couple months back and it lost 20+ times. Now over 30. What'll happen is one day he'll just make some excuse to stop the plays and rename it to something like "double or nothing"
Good thing I document it too…every single one in the TSP Content Log at TheSharpPlays.com! LOL!
The funny part is I don't disagree in that rollovers typically lose. It's just the nature of the bet. Rollovers are like a parlays…you lose a lot…but when you win, you make up all the losses and then some. For example, this gentleman was trying to say rollovers lost 30 times. OK, that's -3 units since rollovers start with 0.1 units of bankroll risk. However, what this person fails to acknowledge is that three rollovers won in 2023 and paid out a combined +14.6 units (+7.3 units, +6.2 units, +1.1 units)! What that means is I could lose 145 rollovers in 2023 and still have a profit, albeit a small +0.1 units of profit. Currently, rollovers are +9.7 units in 2023…carry a record of 3-49…and all required just 0.1 units of bankroll risk. So, yes…rollovers by record always look awful, but what counts is unit ROI. Oh and all these stats are for publicly posted rollovers (all posted on Twitter/X)…they do not include the TSP Live rollovers which are also profitable in 2023 and would add to the returns!
So…Twitter/Telegram rollovers are +9.7 in 2023…but somehow this gentleman says they are a marketing tool and scam because I lost 20 or 30 of them. As the saying goes, "haters gonna hate"…and trying to reason with someone like this is just a waste of time. So, since reasoning is a waste of time, I like to have some fun with these types of people. When you have someone who is so blinded by anger and hatred, it becomes very easy to turn them into a dancing monkey for your entertainment!
What I love is that most of these types of people actually think their messages matter to me or to any of you. Listen, I am going to get this disclaimer out of the way right now. For those who are of normal intelligence and know me (as good as you can through the Internet), I rarely…if ever…flex on my socioeconomic status or the things I do/enjoy in life. I share very minor tidbits of my personal life here or there (like visiting Barcelona in a brief picture or going to Ole Miss for some tailgating and football), but I hardly share the "here's my sports car…this is the view from my house…oh no…not another trip on a private jet, etc." stuff like many people in the gambling world do to show their "worth" or "success" at this business. So please, for those who know me, the following is not trying to "flex" but just show the lunacy of these people as vividly as possible.
When the rollover hater above (his Twitter avatar is "Dave") was being my dancing bear one Saturday this football season, I took the below picture at the time and was going to post it in my reply to one of his messages…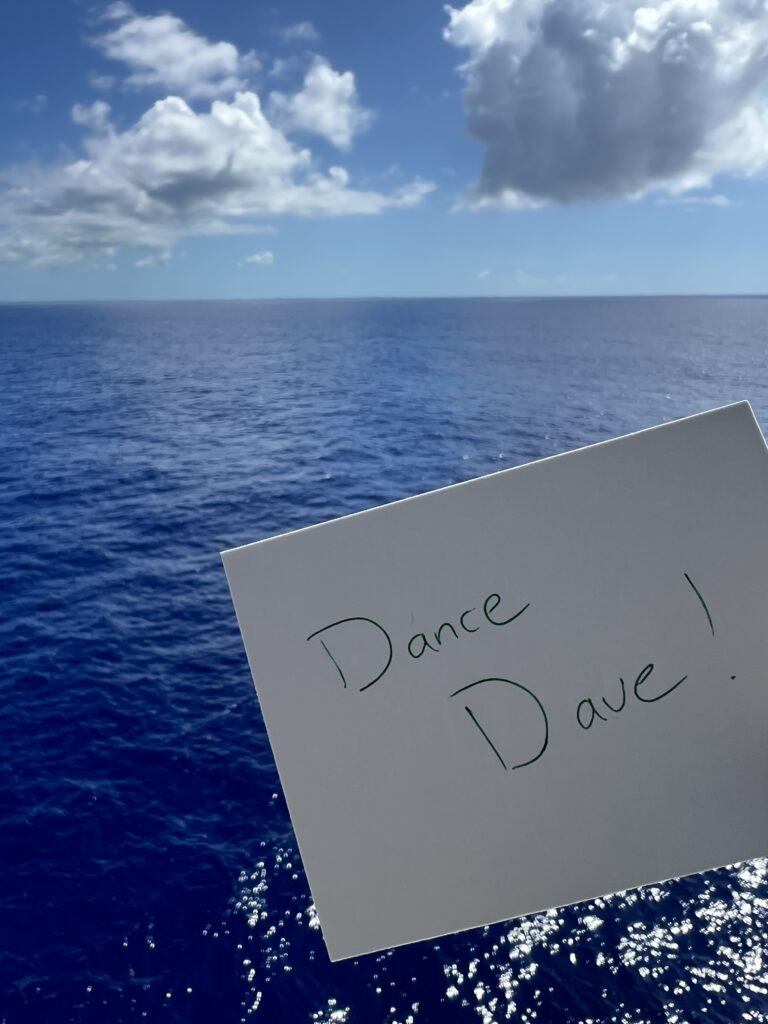 I never posted the picture because I didn't want to be overly mean to someone who clearly has issues in their life, but I'll do it here! So, while Dave was ranting and raving like a homeless person on a corner, my point was that this was the view I enjoying at the same time. I then ask, what do these idiots on Twitter/X look to accomplish? You think some lunatic calling me a scam, tout (oh not…not that word!!!!) or whatever is going to get me all shook up and ruin my day…especially when the above was my day? LOL! Um…highly unlikely. If anything, I thank folks like Dave because as I sit overlooking this view, checking college football scores, and looking at my latest messages on Twitter/X…these people make me realize indeed how lucky I am! I could always have their life…and that is clearly a sad existence if you are the homeless man on the Twitter/X corner ranting and raving as though people care. Nope, just like the homeless man, everyone just ignores you and keeps on driving by…going about their lives and forgetting all about you by the next traffic light.
Moving on!!
Another message I will get from time to time is what I call the "highlight whiner". What the hell is this?!? On Sunday of this past week, in the early games I cashed a parlay, Book Position, KB Consensus, and a nice 1.0 unit rollover bankroll builder. So, when the parlay and rollover hit, I posted some celebratory messages to the Telegram channel. Later that day the late KB Consensus play lost for a 1-1 day on KB Consensus…but I did not go back and make sure to let everyone know that a KB Consensus play lost. Funny…I didn't report the first one that won either…but that doesn't matter to these folks.
These highlight whiners feel that I am only allowed to discuss a win IF I discuss every loss that also occurred. I don't have to discuss every win, but if I discuss ANY win then I MUST discuss EVERY single loss so people know. Well…most of the people know what won and lost because they get all the content. So, it's not like my not immediately recapping something hides it from the memory of TSP Live subscribers who got all the content. Especially when I provided a full recap Monday morning AND a content log and records tables of every rated wager. None of that matters though to the whiner.
What usually triggers a highlight whiner is the following…the whiner won't play some bit of content like the parlay, but they will play both of Sunday's KB Consensus plays for roughly 15-50 units each. When the KB Consensus plays went 1-1 on Sunday, but I didn't note those like I did the 6 unit parlay that won…then I am being a tout (oh no…son of bitch…that word again…haters love to use it like it is some sort of kryptonite!!) and trying to "manipulate" the followers. Well, if anyone in TSP Live was paying attention, they know KB Consensus went 1-1, so if I don't tell them on Telegram are you saying they will forget it?!?!
I never even thought about this sort of stuff until the highlight whiners showed up and would bitch about how I can't celebrate a big win unless I am certain to clinically note all the losses. For the rest of you, please note…I love to get these highlight whiners triggered, so be aware on the next highlight! It's just too easy and they get sooooo worked up when I do it! I can't help myself…in this way I am like a child. If this disturbs you, I don't give a flying fuck…yeah, not just a standard fuck…I don't give a flying one too! Don't follow…don't subscribe…doesn't change anything in my life except I have one less idiot in it.
The third type of common message I get from haters is they love to bring up the Robin Hood Club where I lost 19 units on wagers. Yeah, it sucked! Although, it was back in 2019 when it occurred. Yeah, they have to go back four years to find a failure…and yet The Sharp Plays is still here…with exponentially more followers and subscribers since that time. I am pretty confident I covered that 19 units in subsequent profits and then some…but none of that matters to the hater. Not to mention, the Robin Hood Club is hardly something I hide either. I have an article on the Articles page on the website (https://thesharpplays.com/i-have-not-failed-ive-just-found-10000-ways-that-wont-work-thomas-a-edison/) and it is what I consider as my biggest failure at The Sharp Plays in all my years doing this…which I have stated since that time it happened on the Records Archive page (https://thesharpplays.com/records-archive/). To me, I love when these types of haters bring it up because they have to go back four years to find a failure..and there's nothing else they can pick on. My favorite is they use the 2019 Robin Hood Club as some sort of prison shank that is supposed to stick me between my ribs if they mention in. Oh no…don't bring up the Robin Hood Club…OUCH…YOU ARE HURTING ME…PLEASE STOP!!! At which point I am supposed to run and hide…and cry again. I have no problem acknowledging the RHC was a debacle. I accept that I am not perfect and gambling is far from a sure thing. There will be ice cold runs if you do this long enough and the Robin Hood Club from November and December 2019 was one of them! Bring it up all you want. The fact you bring it up only makes me love you as a hater that much more! It either means you have been hating on me for over four years (I'm flattered) OR if you are a new hater who learned of the Robin Hood Club…it means you are so infatuated with me that you actually read everything on The Sharp Plays website to know about it. At which point you don't realize it but I find you as yet another dancing monkey. I am living rent free in your head. Driving you crazy because I am still here…only bigger and better since the 2019 Robin Hood Club when in your mind I should be long gone because of it. Sorry for your luck…I am still here…and I don't hide the 2019 RHC or how it ended. #RobinHoodClub4Life 🤪🤪🤪🤪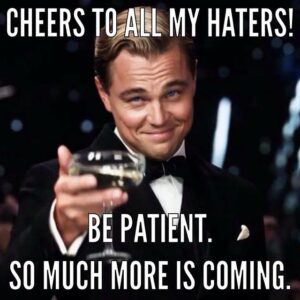 Again, I could write a book, and I promise I will have a long article for shits and giggles of actual messages I have received through the years. To do it though I will need more than a week to put it all together.
For those of you who tend to be whiners or haters, I appreciate you following and subscribing. I don't mean the following to be rude, but just realize I don't give a shit what you want to say or criticize about what I do. You want to call me a tout…cool…I am fine being a tout. It's a word…oh boy. You want to say I am a piece of shit because of the Robin Hood Club from 2019…OK…this might be important to you, but clearly none of the other subscribers or followers do. You can keep hating, but just realize it won't change anything. I do what I do and if people want to follow…great…if not…it has ZERO affect on my life. I will still be enjoying my life…while you endure misery in yours. I do not wish misery upon you…and I hope you will have a wonderful life…but if you are spending your time trying to upset my life…good luck! Don't waste your time. Go find some other mental midget on Twitter and maybe your trolling will get the response you want from them.
Even if you could destroy The Sharp Plays, like Obi-Wan said to Darth Vader in Star Wars Episode IV…"You can't win, Vader. If you strike me down, I shall become more powerful than you can possibly imagine."
That'll close out this week's newsletter for me! Thanks for giving the newsletter here a read today! Stay safe out there! I am always open to any feedback you may have. I might not listen to it, LOL, but I am open to it! 😉🤙🍀
Good luck in your action!
~ The Sharp Plays