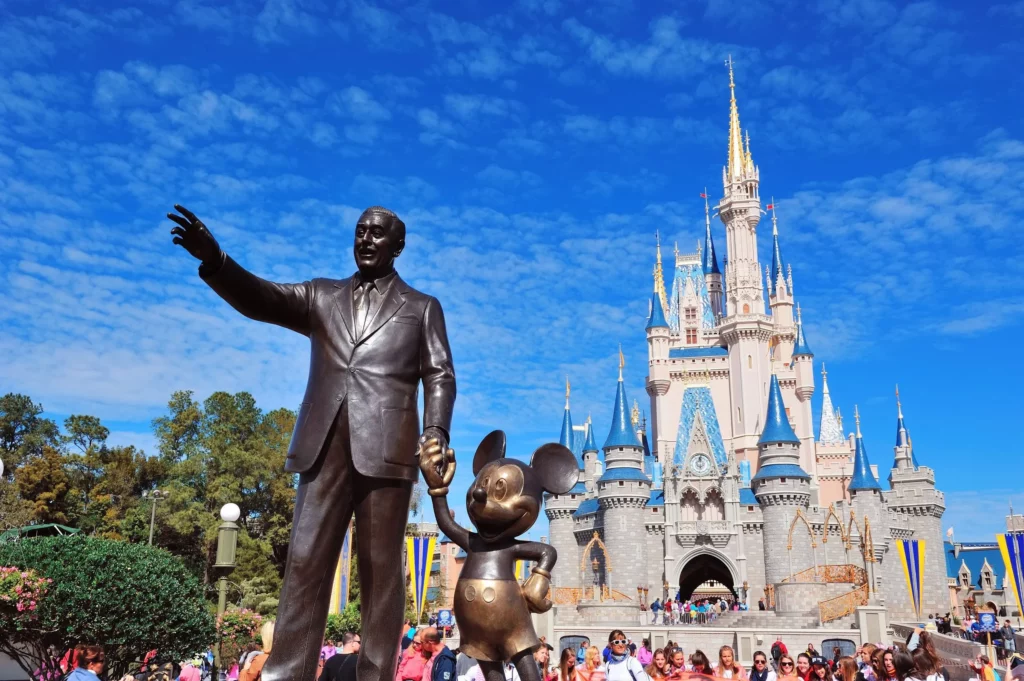 I AM NOT paid nor compensated in any way for these reviews. Reviews at The Sharp Plays are here to provide my opinion on variety of topics, products, services, etc. that I find interesting or think that my audience might find interesting. Reviews are based on my individual experience. Your results may vary! 😉
Bob Iger was recently brought back as Disney CEO and probably not a moment too soon. After Iger left, Disney lost much of its magic and the company was really being run into the ground. Iger wasn't perfect, and I disagree with some of his decisions too. However, he's lightyears (Buzz that is, LOL…ya get it?!?) ahead of Chapek in terms of ability and quality of management. So, hopefully he can clean things up within Disney.
I was actually putting together this review of Walt Disney World prior to Chapek's departure. As you will see, it's not exactly glowing. Funny to see what has happened since I felt compelled to write about the decline of Disney quality.
To preface this, I should say that I was a Disney kid. Some of my greatest childhood memories revolve around family trips to Disney, which remain seared (in a good way) into my mind to this day. I have forgotten a lot from my childhood through the years, but the brain has held onto vivid memories of riding "It's a Small World" with my aunt, walking around the "Marketplace" (now called Disney Springs), being at Port Orleans during a hurricane, driving around in a golf cart (when Disney "Vacation Villas" offered golf cart rentals to get around the property and to Disney's Marketplace), being too scared as a child to try Space Mountain, but being told Walt Disney would never make a ride where people got hurt…so then I braved the darkness of Space Mountain and loved every minute of it! Enjoying the Pirates of the Caribbean…simply for that first drop at the beginning…and how my grandmother would scream during it. I could go on and on and on. Since enjoying Disney as a child, the memory making has continued as an adult with my own family. Damn, the time sure flies! One minute I am a kid looking out the window on a Disney bus imagining that one day I will be taking my own child on that same bus to Disney…and then next thing I know that's the situation….and now before I know it, although hopefully not for a bit, it'll be grandkids I am taking on that Disney bus…WTF! LOL!
Given these great memories, a visit to Disney World is like a drug to me. If you could bottle up the feeling of immense joy and nostalgia that I get when being at Disney into a pill…I would be a junkie and likely overdose immediately. It's just that good! I am big with nostalgia and Disney provides a ton of it every second I am there.
So, given the above, here comes a glowing Disney review…right?!?! Well, I am sad to say that in recent years the bloom is off the Disney rose. I still enjoy going. It would be tough to ruin Disney, and I would be there tomorrow if the family wanted to go, but let me explain my issues. Just a few things I noticed during a recent trip this past summer to Walt Disney World in Orlando, Florida.
My first problem comes with the monetization of every facet of Disney. When I was a kid we would drive to Disney World. Parking would be free at the resort at which you were staying. The combination of being a resort guest and your park ticket meant everything was covered. Disney provided a bus from every Disney resort to the various theme parks and the Disney Marketplace…along with what was called "Pleasure Island" at the time. If you are unfamiliar, don't let the name fool you. There was no such debauchery. Just a few bars and louder music. A late night spot for adults to unwind over a few drinks.
Well, fast forward to 2022 and Disney has found a way to charge you for everything and anything…including removing some nice benefits that resort guests were provided at no additional cost.
First, for years Disney offered the "Magical Express". It was a convenient and complimentary feature where Disney provided buses to its resort guests from Orlando International Airport to your resort. Disney also provided free luggage service with this benefit. You simply got off the plane, headed to the Magical Express, were loaded onto a bus and off you went to your resort and a fun Disney vacation. Your bags would "magically" arrive to your room later that day/evening. It was quite convenient, and allowed you to begin your vacation as soon as you stepped off the plane. Awesome!
Well, over the past year Disney has done away with the "Magical Express" service. You now have to setup your own transportation (car rental, Mears bus or limo) from the airport to your resort, and grab your own bags at the airport too. No, it's not a big problem, but it adds a cost (since the Magical Express was free and a car rental or Mears reservation is now) and the change creates a loss of some of the convenience you had come to enjoy through the years. Does Disney provide a discount for the removal of this service…um…no.
For those driving to Disney, as opposed to flying, parking at your resort was always free…up until recently. Free resort parking makes sense. You are staying at a Disney resort (and paying a pretty premium for the "luxury" of being on Disney property)…how about a free parking spot?? LOL…not anymore! There is now a daily charge for parking your vehicle at the resort on top of your overpriced room. Of course this doesn't even take into account the exponential rise in the cost of Disney park tickets through the years.
About 10 years ago I could take my family to a "Deluxe" resort at Disney World for one week at a cost of $3,500-$4,000…airfare & dining (Disney used to offer promos regularly with their dining package included free in your reservation…no more free dining in any packages…one more lost bonus over the years). Today that same resort, tickets, dining and airfare would cost $9,000 to $10,000! Yes, of course over 10 years there is some inflation. Cumulative inflation over the last 10 years calculates out to +29.8%. So, that would put my $3,500-$4,000 of 2012 dollars at $4,543 to $5,192 today…a far cry from the current $9,000 to $10,000 that it now costs.
Not only has the cost of a Disney vacation gone up year over year. Disney has found ways to build some add-ons for you to purchase on top of the ticket cost. These add-ons ARE NOT included in the $9,000 to $10,000 costs noted in the paragraph above either. The main add-on is the new "Genie+" service. You can find details about it online, so I won't bore you here (I am doing enough of that already). Suffice it to say, Genie+ has replaced the old FastPass system and basically creates a "pay to play" setup where you can obtain access to various rides without waiting in line for more than 15 minutes…most wait times with Genie + are 5 minutes or less. The cost of Genie+ works out to $15 per day per ticket, PLUS you pay extra for "specialty" rides. Which means you can pay $30, $40, $50 or more per day and per ticket depending on what rides you purchase access to on an a la carte basis. So, yes…a family of four now pays an additional $60 to $200 per day for Disney depending on if/how they utilize Genie+. It means an extra $420 to $1400 for that 7 day trip and on top of the other discussed expenses. Want to go to the water parks?? Well, that's an added ticket cost as well. But wait…there's more!
On top of the Genie+, Disney has these after hours "parties" which are also an added expense. Basically, you get to stay later in select Disney parks and enjoy some free treats and bonuses…along with being able to ride all the rides (much shorter lines since the peasants, who did not purchase the special after-hours party ticket, all have to leave when the party begins). The treats are nothing overly special, just some packaged cookies and desserts at various locations around the parks. The "value" is the lack of people in the parks and the freedom and ease of hitting the various rides. How much do the parties cost? On top of everything else the cost is $135 per adult and child over the age of 2. So, a family of four looking to attend "Disney After Hours at Magic Kingdom Park" can expect to pay an EXTRA $540 FOR THAT DAY on top of ALL the other expenses I have just discussed above. So, just between Genie+ and doing only ONE of the parties during your stay, you have added as least $960 to your trip cost…and potentially much more depending on how aggressive you were in using Genie+ to access the "specialty" rides…which are of course the top rides that everyone wants to check out!
Now as I say all this, on the last trip to Disney we of course purchased every add-on, a party ticket, feature, etc. So, I will criticize that Disney has created this system, but like a good sheep…I went right to slaughter. The point of the above venting wasn't so much the money, it was just the fact that Walt Disney World went from being a retreat for the wealthy and down to the lower middle class, to being something that completely prices out far too many families. Today's Walt Disney World is no longer keeping with Walt Disney's dream for a playground for ALL families. Sure, you can get to Disney World for a fair price by cutting corners where you can…BUT…to really get the full experience, be prepared for your pockets to get picked at every turn! Oh yeah, and despite this DRAMATIC increase in prices through the year, also be prepared to lose some of the service and quality in the process. More money…less quality and service…what a deal!
Now that I have vented enough on the price gouging, let's cover the different facets of Disney World and what I have noticed as a long-term Disney guest.
The Theme Parks
Disney World has four primary theme parks. In the order of when they were built, the theme parks are Magic Kingdom (the original), EPCOT, Hollywood Studios and Animal Kingdom.
I won't go into rides or specific attractions, there are plenty of websites that handle the briefings on each ride and all its ins and outs. The one thing I will say is Disney rides are unlike most amusement parks. When I say "rides", people who have never been to Disney think of rides you find at Cedar Point, Hershey Park, Universal Studios, Lego Land or your nearest Six Flags. No, those are no comparison. Disney really does spend the money when it comes to the development of their rides. In most of the Disney rides you have a unique immersive experience. For example, Disney has a new Guardians of the Galaxy rollercoaster at EPCOT called "Cosmic Rewind". From the moment you step into the building (the rollercoaster is indoors) you become a part of the ride. It's a fun twist that makes the experience more than just waiting in line to sit in a car and go along a track for 2 minutes. In Cosmic Rewind, you are transported to outer space before you even get on the actual ride. As you wait in line you are given the backstory to your upcoming journey as you walk through what could best be compared to as a movie set.
In the case of Cosmic Rewind, of course you don't really believe you have gone into outer space. However, unlike waiting in line for a ride at Hershey Park, where you stand in corrals outdoors as fans overhead blow heated air at you while you look at your phone and the smelly people around you…Disney begins the ride experience as soon as you walk in the building. A building which thankfully is efficiently air conditioned! Here's a video of the ride (click here) on YouTube. It's tough to get the audio and even some of the video because of the air hitting the camera microphone, and the fact it is a roller coaster which has you moving rapidly, but you can see that the ride is more than just your standard roller coaster.
Disney rides are a unique experience, something I have not found at any other amusement park in all my journeys. Yes, I have gone to Universal Studios…and I don't like most of the rides there. I am not a fan of simulators. The rollercoasters at Universal are fun, but they are no different than the type found at a standard amusement park. I went to Universal a few years ago…it was a one and done experience. However, I have been on Pirates of the Caribbean no less than 50 times since I was born, yet I look forward to going on it every time I am in Disney World…it's just one of those things. It is an experience that brings you back to your childhood. If you didn't have the experience as a kid, I could easily see you going on Pirates of the Caribbean for the first time as an adult thinking…this is total shit TSP! LOL! The Disney ride experience is fun and unique, but what brings people back to "It's a Small World" or "Pirates of the Caribbean"…which have been around since October 1971 (51+ years ago) and December 1973 respectively…are the memories it awakens as you sit down in those boats for yet one more trip on the water.
The current top 10 rides at Disney World are…
Guardians of the Galaxy Cosmic Rewind
Rise of the Resistance
Avatar Flight of the Passage
Remy's Ratatouille Adventure
Slinky Dog Dash
Smuggler's Run (I am a Star Wars fan)
Seven Dwarfs Mine Train
Toy Story Mania
Test Track
Rock 'n' Roller Coaster
My top 10 rides for Disney World nostalgia would be…
It's a Small World
Pirates of the Caribbean
Space Mountain
Haunted Mansion
Spaceship Earth
Peter Pan's Flight
Journey Into Imagination With Figment (the ride is really showing its age)
Jungle Cruise (although the jokes from the "captain" are overly cheesy)
The Many Adventures of Winnie the Pooh
Tomorrowland Transit Authority PeopleMover (pretty boring, but that's what makes it oddly enjoyable and a good place to sit and relax)
The Resorts
Walt Disney World has three types of resorts…"Value", "Moderate" and "Deluxe" (with Deluxe Villas). I am the type of traveler who is fine paying for things and will gladly pay a premium, if the premium is justified. I am not seeing it with Disney resorts. As costs have gone up, both service and product has declined measurably. First, it was the loss of the Magical Express to get me from the airport to my resort. Along with the loss of the Magical Express was the convenient luggage service that Disney provided so I didn't have to wait at the airport for my bags. Next was HOUSEKEEPING!!
Alright, I am going to go off on a tangent here, but there is nothing that pisses me off more than hotels who use "COVID" to no longer offer daily housekeeping services. The fact these hotels use this excuse to this day is very annoying and weak. Hotels, not just at Disney, will still charge you a healthy per night rate, just remove some services "for my safety". Stick it up your ass! I want daily housekeeping! I don't want to see garbage piling up in the small bin in the room or wet towels on the floor. So, as a frequent traveler, I have to do something I have never done before…search for hotels which still offer the service we long took for granted in the "hospitality" industry…DAILY AND FULL housekeeping services!
While the rooms at Disney, in my experience, are always clean and smell good…that's not so much the point. It's that Disney has aggressively increased prices (as cited above) yet taken away some of the key services that provided enjoyment and relaxation in your previous Disney resort stays. Basically, Disney just provides a roof over your head, a bed (whose quality works…but definitely not one of the more comfortable beds) and some clean towels when you call for them or "every other day of your stay". Awesome!! I love the smell of wet towels marinating for 48 hours…and yesterday's pizza putting off a nice aroma from the garbage bin. Come on!!
The Value resorts at Disney are very basic. Expect no frills here. You will get a pool(s), a food court, a souvenir shop for amenities, and bus service to all the parks and Disney Springs. Your room at a value resort will be comparable to a Motel 6 room…but cleaner. These hotels pack in lots of people into one location. So, buses tend to be very packed when going both to and from the parks. I have experienced a Value resort only once when a relative was staying there and we went to visit them at their resort. It was nice to GTFO when it was time to go. A little too much noise and far too many people for me.
The Moderate resorts would be comparable to a Hampton Inn. It's definitely not the Motel 6 level, but you also know you aren't staying at the Four Seasons. I have to say though, as someone who is a bit of a diva when they travel, I do not mind Disney Moderate resorts. For example, on a short trip we stayed at Disney's Caribbean Beach Resort for ease of using the new "Skyliner" (gondolas which take you to Hollywood Studios or EPCOT) to get around. There were plenty of pools to use…both quiet pools near my room and then a main pool with more amenities. The food court options were good and the place was not overloaded with people as you find at the Value resorts. I would stay at a Moderate resort again. When I was a kid we often stayed at Port Orleans Riverside (formerly "Dixie Landings") and Port Orleans French Quarter…both remain solid Moderate options for a Disney stay.
The Deluxe resorts would be comparable to a higher end Hilton. I wouldn't say these get to Four Seasons or Ritz Carlton level, but they get closer depending on which resort you stay in. My favorite Deluxe resort is the Animal Kingdom Lodge. It's usually my resort of choice. Animal Kingdom Lodge (I have not stayed at Kidani Village…just the Lodge) is usually not packed. The AK Lodge provides a relatively nice and quiet stay. Although, when my family and I visited Disney World in February 2020 and stayed at the Animal Kingdom Lodge, someone died at the hotel. We came back from a day in the park to notice two sheriff's cars out front and a vehicle with the words "Medical Examiner's Office" on the door. Yep…white camera and all…he was there to take some pictures in a room down the hall from us. I do not know what happened as Disney is very tight lipped about this sort of stuff…but something surely happened. So, there was that little tidbit. Otherwise, never an issue in previous stays…and there have been plenty.
My top 5 resorts at Disney World would be…
Animal Kingdom Lodge (Fun to see the animals, a nice pool and lobby, rooms are newer compared to many Disney hotels)
Saratoga Springs Resort (On the location of what used to be the "Vacation Villas" back in the 80's and 90's. These are nice villas which provide a little kitchen, living room area, balcony and multiple bedrooms. Very nice for two families or if you have an army of children. Good location too because it is walking distance to Disney Springs.)
Key West Resort (Rooms very similar to Saratoga Springs…just at a different location)
Port Orleans Riverside (Good food court and restaurant off the lobby. Rooms have recently been updated and never a problem getting a bus that's not packed.)
Caribbean Beach Resort (convenience of the Skyliner is they key selling feature…but the rooms are good. Nothing exciting to write home about, but it works just fine.)
Disney Resorts I was not impressed with…
Grand Floridian – I expected a lot more for the cost and the image you are sold about this hotel by Disney…it did not deliver.
Contemporary Resort – Sure it is cool to see the monorail going through the hotel, but using the monorail is a pain in the ass at peak times compared to bus services at other hotels.
Disney's Wilderness Lodge – The room and hotel are very clean and nice, but the place just felt cold…not the usual warmth that a Disney resort will have.
Disney's Coronado Springs Resort – Service was awful. Stayed here for two days waiting to catch a cruise. Checking in was a joke and then the room was about a 15 minute walk away. Not a fan.
The Restaurants
Another area of declining service is Disney food. Rewind 10 years ago and I really enjoyed going regularly to Disney because the food at any of the restaurants we would go to was quite good. I would compare many of the Disney restaurants back 10 years ago to the food quality you get within a Las Vegas hotel at their signature restaurants. I would especially enjoy the restaurants in the countries in EPCOT. Each of the restaurants within the various countries located in EPCOT were staffed by people from that country. So, the chefs in Italy or Germany were actually here on a work/study program from Italy or Germany. As such, the staff took pride in the food they offered within their restaurant. Well, thanks again to COVID, many of the staff had to leave and they have not returned. Instead of restaurants in "Italy" at EPCOT being staffed mostly by Italians visiting on a work/study type program, staff is mixed…leaning more to local Orlando residents than anyone in a work/study program. You can tell the difference in the quality of food…and service. The quality of the ingredients has also declined as well as Disney looks to cut costs and increase prices and thereby their margins. Disney management seems to feel that you don't need Grade A chicken…Grade B or C will do just fine..you'll eat it. Where else are you going to eat anyway?? It's not convenient to go off property to eat. You are on Disney property, it's simple to just eat on Disney property. It's not to say ALL Disney restaurants are bad. I still had some good meals and will discuss those. However, going back 10 years, I would say 90% of the restaurants I ate at within Disney provided an EXCELLENT meal. Today, I would say around 15-20% provide a meal I would classify as "excellent".
What happened? Disney food service management has decided to use the Olive Garden method of cooking…use low grade ingredients, heavy on the carbs to fill people up and be sure to add LOTS of butter, cheese and salt for flavor…instead of properly seasoning and preparing the food. The butter, cheese and salt also covers up the lack of quality within the ingredients too. It's sad to see actually. I always enjoyed going to Disney solely for the food. Now I find myself sort of "blah" when it comes to Disney dining. Here's an example of the collapse of one of my favorite Quick Service outlets in Disney.
One of my favorite restaurants is "Cosmic Ray's Starlight Cafe" in Tomorrowland, which is part of the Magic Kingdom. It's just a little quick service restaurant, but the family and I have a lot of fond memories of stopping there for lunches through the years. I typically get a cheeseburger, again nothing exciting, but it was good and helped fuel me up after the miles of walking during the morning. Have a couple fries and a water…what more could you ask for when it comes to a Disney lunch? Well…son of a bitch…they fucked with my Cosmic Ray's experience! The first big loss was after COVID in 2020. Cosmic Ray's used to have a really nice toppings bar for your burgers…sautéed onions, jalapenos, sautéed mushrooms, crispy onions, ketchup, mayo, mustard, relish, pickles, lettuce, fresh onions, tomatoes and more…I know I am forgetting some things. It was great! Well…COVID prevents us from community food stations…and Disney has yet to bring the toppings bar back. Given that there is probably a cost to keeping a toppings bar going, compared to just some ketchup and mayo packets, I don't expect to see it back anytime soon. Alright, I still liked Cosmic Ray's even after they took away my beloved toppings bar. Well, on a recent trip, now they fucked with the burgers! First, they used to give you lettuce, tomato, onion and pickles on the side with your burger. Fast forward to 2022…now you have to ask for the standard burger veggies when you pickup your food. LOL! OK, I ask for it and get my burger all set…time to eat. WTF! The burger quality is now comparable to what I would get in high school. Not that it was an A5 Waygu burger back in the day, but it was at least a nice patty with good flavor. Nope that went away as did a decent tasting bun to go with it. Oh and the fries…yeah those are not hot and crispy…warm at best and definitely not crispy. Come on…you are better than this Disney!
So, what are the restaurants I classify as "excellent" at Disney World?
The Boathouse (Disney Springs – Good food from seafood to steaks)
Paddlefish (Disney Springs – Mainly a seafood restaurant, but I was dining there with family who doesn't like seafood and they found plenty on the menu they enjoyed.)
Coral Reef (EPCOT – although a recent trip was a little disappointing…I hope this one doesn't fall off the map too thanks to quality cuts. It's always nice to sit and eat while watching the fish in the aquarium. I get the shrimp and grits…and I am not big with desserts, but I always get the chocolate wave. Food is good, but definite decline on the last trip.)
Be Out Guest (Magic Kingdom – OK, the food is good, not excellent…but the setting is really cool and makes up for things. It's a Beauty and the Beast theme restaurant and it's pretty neat inside and worth a visit.)
Via Napoli Ristorante (Italy at EPCOT – Good lunch location, pizza is excellent)
Tony's Town Square Restaurant (Magic Kingdom – Good Italian food…not fine cuisine, but better than your local Olive Garden…although that's a low bar.)
Restaurants that I used to love, but Disney cutbacks have killed…
Tutto Italia (Italy at EPCOT – used to be some excellent Italian cuisine…ingredients have declines and no longer authentic Italian staff across the board.)
Chefs de France (France at EPCOT – another that provided excellent French cuisine when the chefs were actually from France)
Le Cellier Steakhouse (Canada at EPCOT – Had an AWESOME Kansas City Strip with a coffee rub during one visit…damn it was good. Went back in the past two years and the menu changed. So, I just got the NY Strip instead. Well, I think Applebees probably has a better steak now.)
STK at Disney Springs (Disney Springs – Another steakhouse that I had high hopes for that fell flat…save your money!)
I have others I enjoy, but I am declining to put them here because I have not visited in a few years. Given the exponential decline I have seen at Disney restaurants, I will wait to check them out in person on a future visit and see if they too have gone the "Olive Garden" route.
TSP Trick – How To Prevent Losing Your Mind!
Now, here's the TSP trick for this review when it comes to Disney World. My family's strategy, going all the way back to when I was a kid, was to get to the various parks right when they opened. I know, everyone knows this…wait…that's not where I am going. Usually, the crowds are far smaller in the morning when compared to later in the day. Not to mention it is not as hot or humid! Also, be aware that Disney provides its resort guests with "extra magic hours" which means select parks open earlier and close later for Disney resort guests depending on the day. It is good to take advantage of the early opens. Yes, it means getting up and going early…no sleeping in…but you will thank me for it later!
So, my family and I would get in right when the parks opened. We would then run all over and hit a bunch of rides, grab lunch, and then maybe one more ride before heading out of the park around 1pm. Why? The damn heat and the crowds! It's Florida and it gets hot & sticky during the day. Enjoying the various rides does help provide some respite from the sweltering heat and humidity. Disney air conditioning does get an A+ rating from me. However, all that walking, riding, heat, sun and humidity will suck the energy out of you after a few hours. Not to mention, both the adults and the kids in the group will get pretty agitated being soaked in sweat, bumping into the crowds of other people who smell and are soaked in sweat. It's no fun and everyone gets miserable around 2pm each day.
So, instead of the above disaster, with whining children and whining adults, my crew and I would exit the park around 1pm. Hardly anyone would be on the bus back to the resort. Talk about a nice, quiet, and peaceful ride as you cool off in the AC on the bus. When we would get to our resort room, we would further cool down for a bit and then head to the pool or just take a nap. We'd relax around the resort until around 4:30 when we would make our way to whatever park had our dinner reservation for that night. Having that break from 1 to 4:30 from being in the parks made for SUCH an enjoyable time. You had the chance to get out of the heat and sun, catch your breath, take a little nap, and recharge for bit. You then go back into the parks around 5pm all rested, cooled off and relaxed…as you see the weary and miserable faces of those who have been in the park straight since 8am!! LOL! You can pick them out fairly easily. They are the ones who look like they just walked through the desert for 10 days straight and are just hoping someone would put them out of their misery.
I went to Disney with my sister in law once. Her strategy was to get to Disney after the parks had opened for 1-2 hours and then spend all day in parks. I didn't like this plan because even as a kid we NEVER stayed in the parks past 2pm AT THE LATEST! I thought, alright, I will give it a shot. After one day's experience of staying in the parks all day, I came to the decision that I would rather catheterize myself with a firehose then spend an entire day in the Disney parks ever again. As much as I enjoy Disney, you need a break from the heat, crowds, smells, and chaos that is a day at a Disney park.
So, next time you are in Disney, grab lunch, maybe hit one more ride, and GTFO at around 1pm-1:30pm…NO LATER!!!! Go back to the resort, do some swimming, read a book, do work on your tablet or laptop, enjoy some AC, have a snack, take a nap…whatever! It'll be a nice relaxing part of your day and get you all recharged to head back into the parks for dinner and a few more rides or shopping before closing up for the evening.
The Good, The Bad & The Ugly
As a whole, Disney is still a fun destination and a great place to get away with the family. It is just sad to see how much it has changed, not just from when I was a kid, but even within the past few years! The level of service, especially customer service from Disney and quality of product you had back in the 80's, 90's and 2000's compared to what you have today has seen a dramatic change. The food, prices, and resorts services (namely housekeeping), leave a lot to be desired. However…
There's nothing like watching your child as they see Mickey, Minnie, Chip, Dale, etc. for the first time. There's nothing like laughing and experiencing the various rides together with your family, and allowing them to build memories which will provide almost euphoric nostalgia later in life as they make memories with their own families. A lot can be taken away from you in life…money, careers, love, houses, cars, etc. Barring dementia and Alzheimers, one thing that can't be taken are the memories you make in those various moments of a Disney vacation. Memories you will keep for decades. When I am having one of those days, thinking back to a trip to Disney when I was a kid makes me realize that life is pretty great, and it's been a fun ride so far…which helps push any short term issue out of my mind.
Safe travels!